EXCELLENCE IN NUTRITION AND MEAT SCIENCES
Dr. Joshua (Jinhua Gong), Agriculture and Agri-Food Canada
Sponsored by Trouw Nutrition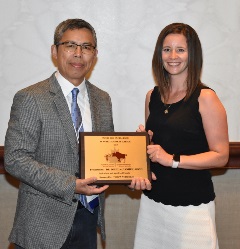 Dr. Joshua Gong is a senior research scientist at Agriculture & Agri- Food Canada located in Guelph, an adjunct professor with Universities of Guelph and Manitoba, and a member of Scientific Advisory Committee of Canadian Poultry Research Council. His research has provided considerable insight into the interactions between gut bacteria and the animal host, functional mechanisms and development of antibiotic alternatives, and pathogenesis of critical enteric pathogens. All of these factors have had a significant impact on meat production, especially in light of the pressure to remove antibiotics from animal diets. One of Dr. Gong's important contributions to animal nutrition is the recent discovery of molecular mechanisms underlying the benefits of butyrate for growth efficiency and meat composition in broilers. His multidisciplinary approaches (including animal nutrition) to study necrotic enteritis in poultry has not only advanced basic understanding of the gut disease but also led to the development of effective control strategies and novel technologies. Dr. Gong has authored 150 peer-reviewed publications with a cumulative H-index of 43, six patent applications, and 210 conference abstracts. He is a recipient of 2012 Award from Canadian Society of Animal Science for Technical Innovation in Enhancing Production of Safe Affordable Food.