EXCELLENCE IN NUTRITION AND MEAT SCIENCES
Dr. Chaouki Benchaar, Agriculture and Agri-Food Canada
Sponsored by Trouw Nutrition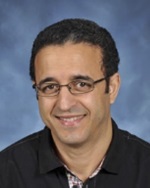 Dr. Benchaar is a research scientist at the Sherbrooke Research and Development Centre (Quebec) of Agriculture and Agri-Food Canada. He received (with distinction) a Ph.D. from Institut National Polytechnique of Toulouse in France. Since he joined AAFC in 2000, Dr. Benchaar has made several outstanding contributions to the dairy producers and the livestock feed industry. He conducts the only methane mitigation research program in Canada for dairy cattle and this program is one of few worldwide. He is also recognized as an international authority in the area of using plant-extracts (i.e., essential oils) as rumen modifiers in dairy cow nutrition. Since he joined AAFC in 2000, Dr. Benchaar has conducted 58 research projects (16,500,000 $). He has established a wide research collaborative network both nationally (e.g., Alberta, Manitoba, Guelph, Quebec, etc.) and internationally (e.g., France, USA, Brazil, Netherlands, Spain, etc.). He has authored/co-authored 102 publications in peer-reviewed scientific journals, 5 book chapters, 136 scientific conference communications, and 130 technology transfer/technical papers. He is co-leader of the "Technical Advisory Group on Feed Additives" of the "Livestock Environmental Assessment and Performance (LEAP) Partnership" of the Food and Agriculture Organisation (FAO) of the United Nations (Rome, Italy) and has greatly contributed for the development of "Guidelines for Assessment of Environmental Performance of Feed Additives in Livestock Supply Chains". Dr. Benchaar has made significant contribution to the Canadian Society of Animal Science having served as Eastern Director and as Associate Editor to the Canadian Journal of Animal Science.