CANADIAN INDUSTRIES AWARD IN EXTENSION AND PUBLIC SERVICE
Dr. Derek Anderson, Dalhousie University
Sponsored by Canadian Pork Council, Chicken Farmers of Canada, Beef Cattle Research Council, and Dairy Farmers of Canada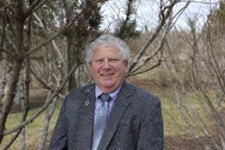 Dr. Derek Anderson started the extension and teaching components of his career with Alberta Agriculture as the monogastric nutritionist in 1978. He received training in Animal Science, specifically Swine Nutrition, with studies at the Universities of Manitoba, Saskatchewan, and Alberta. When with Alberta Agriculture, he participated in the delivery of the Alberta Pork Production Home Study Course and was a regular contributor to the Western Hog Journal. A majority of Dr. Anderson's time was spent providing nutrition consultation to producers. His focus was to integrate laboratory feed analysis with ration balancing for pork, poultry and rabbit producers. In 1982, Dr. Anderson accepted a teaching position with the Nova Scotia Agriculture College (NSAC), which laterally became part of Dalhousie University. In this position he developed an integral relationship with regional poultry and swine producers and Atlantic provinces provincial swine extension specialists. Regional coordination and communication were vital in support of these industries. Derek Anderson developed and delivered a Swine Nutrition Home Study Course to producers in the Atlantic pork industries. Teaching ranged from vocational short courses through technical, undergraduate and graduate programs. He delivered an average of 238 hours of student (laboratory/classroom) contact time annually for 33 years in these programs. Courses included swine production, basic and applied nutrition, fish and fur animal nutrition, protein metabolism, vitamin nutrition, many special topics courses, as well as components of many other courses. He supervised technical, degree and graduate student projects numbering over 219. Experiencing the growth of students through teaching interactions was an honour. Dr. Derek Anderson retired at the end of December 2015.