TECHNICAL INNOVATION IN ENHANCING PRODUCTION OF SAFE AFFORDABLE FOOD
Dr. Eveline Ibeagha-Awemu, Agriculture and Agri-Food Canada
Sponsored by Semex Alliance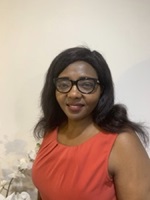 Dr. Eveline Ibeagha-Awemu has established national and international reputation for her research on dairy cow genomics and epigenomics for dairy health management and production. Her research supports the dairy industry and larger animal science community to develop strategies that contribute to the production of safe and affordable food for Canadians and internationally. Dr. Ibeagha-Awemu's research focuses on applying OMICs technologies to: 1) unravel the molecular mechanisms of lactation, (2) detect genetic markers of milk quality/yield traits; 3) detect epigenetic factors as contributors to phenotypic variation in complex livestock traits and 4) unravel the molecular mechanisms underlying bovine mastitis and Johne's Disease (JD). Dr Ibeagha-Awemu is among pioneer scientists to characterize regulatory elements (miRNA and lncRNA) in the bovine genome and to create awareness of the important contributions of epigenetic factors to phenotypic outcomes in livestock health and production traits. Internationally, Dr. Ibeagha-Awemu is cooperating with animal scientists in Africa to set up an African Animal Breeding Network to facilitate sustainable livestock genetic improvement programs. Her intense research has contributed significantly to scientific innovation through 118 peer-reviewed journal articles and book chapters and 73 scientific conference communications, and numerous invited presentations to audiences in many countries. Dr. Ibeagha-Awemu is frequently invited to expert consultancy meetings/panels and to render technology transfer activities. She is/was member to numerous national and international expert committees. Dr. Ibeagha-Awemu served as the Eastern Director, Membership chair, Secretary/Treasurer, President elect, President and Past President of the Canadian Society of Animal Science. She has made a significant contribution through mentorship of Canadian and International Animal Scientists in universities and governments, with several of them holding faculty or research scientist positions in international universities, governments and industry.