TECHNICAL INNOVATION IN ENHANCING PRODUCTION OF SAFE AFFORDABLE FOOD
Dr. Martin Nyachoti, University of Manitoba
Sponsored by Semex Alliance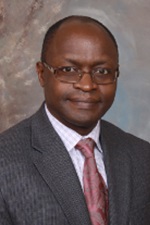 Dr. Martin Nyachoti is a Full Professor and Department Head in the Department of Animal Science at the University of Manitoba. Dr. Nyachoti holds a B.Sc. (Agric) from the University of Nairobi and a M.Sc. and Ph.D. degrees in animal nutrition (majoring in poultry and pig nutrition) from the University of Guelph. Dr. Nyachoti's current research focuses on nutrition and gut health in the non-ruminant, energy and nutrient (mainly nitrogen and phosphorus) utilization, and feed ingredient evaluation. Much of his research is industry driven, and industry partners have requested him to work with them is research and development of novel and innovative feeds and feed supplements. Since 2010, Dr. Nyachoti has mentored nine PhD and 17 MSc students and attracted over $9.8M in research funding ($4.5M as Principal Investigator). His current publication record includes 253 peer-reviewed journal articles and he has given 87 invited presentations in 19 countries. He has served on Editorial Boards of several journals including Journal of Animal Science and British Journal of Nutrition. In 2005 and 2013, Dr. Nyachoti won the Canadian Society of Animal Science Pfizer Young Scientist Award and Award for Excellence in Nutrition and Meat Sciences, respectively, as well as Merit Awards for Research excellence from the University of Manitoba in 2006, 2010 and 2013. He has also served in the Executive Committee of the Canadian Society of Animal Science, and was in the organizing committee of the Western Nutrition Conference for many years. Dr. Nyachoti's research program is generating critical scientific data that has helped the livestock industry improve the efficiency, profitability and sustainability of animal production by developing novel and innovative feeds and feed supplements. His significant contributions to enhancing the production of safe and affordable food merit recognition and make him a most deserving candidate for the CSAS Technical Innovation in Enhancing the Production of Safe and Affordable Food award.