YOUNG SCIENTIST AWARD
Dr. Daniel Columbus, Prairie Swine Centre
Sponsored by the employees of Masterfeeds LLP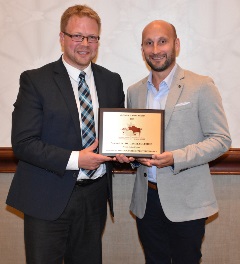 Dr. Daniel Columbus is a Research Scientist in Nutrition at Prairie Swine Centre and Adjunct Professor in the Department of Animal and Poultry Science at the University of Saskatchewan. Dr. Columbus completed his BSc, MSc, and PhD at the University of Guelph in 2004, 2008, and 2012, respectively. He then completed a Postdoctoral Fellowship at the USDA/ARS Children's Nutrition Research Center at Baylor College of Medicine. He joined the Prairie Swine Centre in 2015 and became Research Scientist in 2016. Dr. Columbus' research focuses on the interaction of nutrition and health and nutrient utilization in swine and he has secured more than $4 million in research funding as PI and co-PI. His research is supported by NSERC, the Government of Saskatchewan, Alberta Agriculture and Forestry, and Swine Innovation Porc – Canadian Agricultural Partnership, among other agencies and industry sponsors. He currently serves as Western Director for the Canadian Society of Animal Science and as reviewer for several journals, including Journal of Animal Science and The Journal of Nutrition, and as Associate Editor for the Canadian Journal of Animal Science. He is involved in both undergraduate and graduate teaching and mentorship and has provided training to 18 HQP including undergraduate, graduate, postdoctoral, and research assistants. He has published 20 peer reviewed scientific publications, 55 conference abstracts, and 13 industry publications. He has received 8 scholarships and awards including the NSERC Alexander Graham Bell CGS.