Call for Applications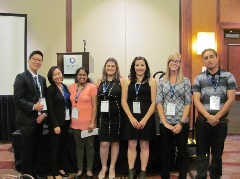 *A cross section a 2017 CSAS students proud award winners*
The Canadian Society of Animal Science (CSAS) is pleased to announce the availability of travel fellowships to support attendance by its graduate and postdoctoral student members to the 2019-American Society of Animal Science and Canadian Society of Animal Science Annual Meeting and Trade Show to take place in Austin, Texas from July 8th to 11th, 2019 (https://www.asas.org/meetings/annual-2019)
*A cross section a 2017 CSAS students proud award winners*
Name of the Award: CSAS Graduate Student Travel Fellowship
Nature of the Award: $500.00 towards expenses for travel to the 2019 CSAS-ASAS Annual Meeting and Trade Show.
Payment of the Award: A notification of award will be issued on or before May 30th, 2019. Winners will receive the cash award during the CSAS awards night in Austin.
Eligibility:
Registered CSAS member
Registered in an MSc, PhD, or postdoctoral program in a recognized Canadian university.
CSAS student members in institutions outside Canada are also eligible to apply.
Registered and attending the 2019 ASAS-CSAS Annual Meeting and Trade show for the purpose of presenting data (oral or poster).

Application requirements:

Proof of membership (CSAS membership number) and student status (photocopy of valid student ID or attestation by supervisor/head of department)
Applicant's abstract (version submitted) for oral or poster presentation during the meeting.
A justification letter (max. 250 words) describing the focus of the research to be presented at the meeting and the benefits that would be gained from attending the meeting.
A letter of recommendation (max. 250 words) from the applicant's supervisor. The supervisor should sign and confirm that the applicant fulfils all requirements.
Application procedure: Application to be submitted by email to Leslie McKnight (leslie.mcknight@trouwnutrition.com) no later than April 12, 2019. Late applications will not be accepted under any circumstance.