Meet Dr. Xin Zhao, 2011 CSAS Fellow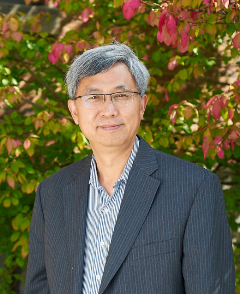 What the Fellow of the CSAS means to me?
I had the honor of being recognized as a Fellow of the Canadian Society of Animal Science (CSAS) in 2011. While I knew that I was nominated, I did not expect to receive the award. So, I had booked an air-ticket to Taipei to act as an external reviewer for the National University of Taiwan to review the Institute of Biotechnology in the University. When I received the notification for the award on April 7, 2011 and asked to attend the banquet in Halifax on May 5, I had to reschedule my trip to Taiwan.
So, what is the fellow for the CSAS? The following is the definition provided by the CSAS: The fellowship is awarded to CSAS members for truly outstanding contributions in any field of animal agriculture. Looking at the past recipients before me and recent recipients after me, I feel so lucky to be a part of the excellent cohort.
My career to date has been a journey characterized by diverse educational and professional experiences obtained in different countries. After I graduated from an agricultural university in China, I went to Cornell to pursue a Ph.D. in the United States. I then continued with postdoctoral research training, first at University of Guelph and then at University of Toronto. I have been in McGill since 1993 and have been a member of CSAS for almost 30 years.
Animal production plays an important role in Canadian agriculture, and is expected to continue to do so in the future, due to growing population in the world and increase per capita meat and dairy consumption due to trade globalization, increased urbanization and expected growth in global affluence. At the same time, we have to deal with increased concern over animal welfare and environmental degradation. The increasing demand for animal-based protein is necessitating the development and use of emerging agricultural technology. As an animal scientist society, CSAS fosters the discovery, sharing and application of scientific knowledge concerning the care and responsible use of animals to enhance animal and human health and well-being. As senior animal scientists, we have obligations to support the society to move our science in new directions.
Being a fellow means service to the society. The fellows are in a unique position to serve the Society. We can help the executives to develop programs and platforms that will enhance members' work as animal scientists, promote our flagship journal Canadian Journal of Animal Science, mentor junior scientists and help organizing annual meetings. I am lucky to be a member of CSAS and will continue my contribution to the society.