Meet Dr. Eoin O'Hara, 2016, 2018 CSAS graduate student award winner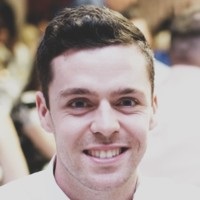 Dr. O'Hara, 2016, 2018 CSAS graduate student award winner discusses the importance of winning CSAS graduate student award by responding to a couple of questions.
What is your name and what is your present position?
My name is Dr. Eóin O'Hara, and I am currently a Postdoctoral Fellow at Livestock Gentec and the University of Alberta in Edmonton, working under Prof. Paul Stothard. Prior to this, I completed my PhD in 2018 with Prof. Le Luo Guan of the University of Alberta and Profs. Sinéad Waters & David Kenny of Teagasc, Ireland.
So what does it mean to win a CSAS student award?
I was lucky enough to win more than one CSAS student award during my time as a graduate student. In 2016, I was awarded first prize in the Graduate Student Poster Competition at the JAM Conference in Salt Lake City. In 2018, I received the CSAS Travel Award to attend the ASAS/CSAS Conference in Vancouver, and was also awarded Second Prize in the Graduate Student Oral Competition. The CSAS membership contains some of the biggest names in Animal Science, and to be recognized with an award by academic and industrial leaders in your field is a great honor, reflecting the long hours of hard work that being a successful graduate student requires as well as the guidance and advice of your supervisors. It's also a great addition to your resume when it comes to your next career move. The CSAS is a tight-knit community of passionate scientists from diverse fields of Animal Science, and encourages communication and collaboration between its members. Being a part of, recognized by, such a community has been a great source of progression in my own career.
What advice would you give to other students?
Innovative advances in animal agriculture will be key to meeting the nutritional requirements of the rising global population, especially in the face of increasing concerns surrounding livestock production practices. Animal Science research here in Canada is of an exceptionally high quality, and as early career scientists in our fields, we have great responsibility to maintain this standard moving forward. To students starting out in their research career I would say: take every opportunity you are given to discuss and showcase your work, and always see criticism as constructive. No question is a bad question, so ask it. Don't ever put things off, especially things you don't enjoy; everyone has strengths and weaknesses, and you'll only improve with practice. The CSAS can be a great resource for you to gain new skills and experiences, so I would encourage all Animal Science students in Canada to join their local branch.
What can you/other students do to promote the goals of CSAS? What activities can you do within the CSAS? What should the CSAS be doing to promote student learning and career development?
Talk about it! The CSAS is a small organization by comparison to some other scientific bodies. It will only grow with more exposure, so encourage your friends and colleagues to join up. The CSAS have taken huge strides forward in the last few years in terms of engaging students and early career scientists in the research community, offering Travel Awards and Presentation Awards to allow students attend their conferences, and I'm sure this will continue into the future. While there are already great platforms for students to share and discuss their work, I think it would be great to see students taking the lead in chairing more conference sessions, and expand the (friendly!) competitions we already have for students to take part in, as well has have more student and postdoctoral representation in the CSAS governing body. Being a member of the CSAS really enhanced my graduate student experience, and I look forward to contributing more to the society in the future.
Dr. Eóin O'Hara, 2016, 2018 graduate student award winner