2022 ASAS-CSAS Annual Meeting & Trade Show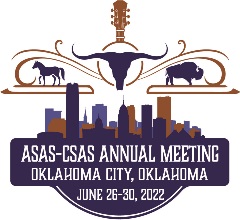 Early registration deadline is Monday, November 15, 2021.
ASAS-CSAS Professional Member
*Nonmembers: Become a member and save on meeting registration fees, visit asas.org.
Cancellation Policy
This cancellation policy does not apply to nonmember presenters.
There will be no refunds for ticketed events unless the event is cancelled and no ticketed events will be available for onsite purchase. To receive a 90% refund of meeting registration fee. We must receive the cancellation in writing by May 9, 2022. After this date there will be no refunds offered.