2023 ASAS-CSAS-WSASAS Annual Meeting Sponsorship and Exhibiting Information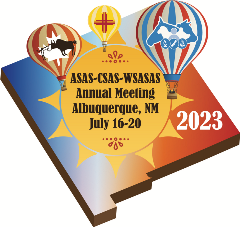 Sponsorship Opportunities
The ASAS-CSAS-WSASAS Annual Meeting offers numerous sponsorship opportunities for all companies, large and small. Recognition and benefits for sponsorship can be tailored to fit your company's needs.

If you are interested in sponsorship opportunities or if you would like for us to produce a customized package, please contact one of the following representatives:

Amy Brainard, Senior Director of Development
email: amyb@asas.org; phone: (217) 356-9050

Justin Bartlett, ASAS Chief Operations Officer
email: justinb@asas.org; phone (217) 621-7957
Exhibiting Opportunities
Exhibit booths are available at the 2023 ASAS-CSAS-WSASAS Annual Meeting for $1,000 per booth. If you are a Diamond or Platinum sponsor you will receive a complimentary booth. Each booth is 10x10 and includes standard 8' backdrop drape with 3' divider, 6' draped table, chair, wastebasket, and one complimentary meeting registration.
Current Exhibitors:
Gasmet Technologies
CLock
Trans Ova Genetics
Blue Sun Scientific
ARPAS
HotHog
ASAS Foundation
Kendra Scott
ASAS/OUP
Exhibit Hall Hours:
Monday, July 17: Exhibitor Move in 8:00 AM - Noon
Tuesday, July 18: Exhibit Hours- 8:00 AM -5:00 PM
Wednesday, July 19: Exhibit Hours- 8:00 AM -2:00 PM Exhibitor Move Out - 2:00 PM -5:00 PM


If you would like to reserve a booth please contact Melissa at Melissab@asas.org.
Sponsorship Levels
Diamond ($25,000+)
Platinum ($15,000 - $24,999)
Gold ($7,500 - $14,999)
Silver ($5,000 - $7,499)
Bronze ($2,500 - $4,999)
Donor (Up to $2,499)

High-Profile Sponsorships
Meeting lanyards, water bottles, or face masks
Refreshment Breaks
Refreshment Breaks in Exhibit Hall
Registration kiosk area
Ice cream social
Opening session and BBQ
WiFi Sponsor
Meeting App Sponsor
Meeting Online Program
Poster session
Linkages talks

Sponsorship Levels and Benefits
Diamond Level: $25,000+
Two Complimentary exhibit booths (includes four full meeting registrations)
Two additional complimentary full meeting registrations
Recognition from the podium at the opening session
Event naming rights
Company listing in the meeting app and online program
Signage at the meeting and banner ads on the online program
Post-meeting attendee list
Company listing (and link to your website) on the meeting website
Listing and recognition in ASAS Taking Stock and CSAS Matters
Platinum Level: $15,000 - $24,999
Complimentary exhibit booth (includes two full meeting registrations)
Two additional complimentary full meeting registrations
Recognition from the podium at the opening session
Event naming rights
Company listing in the meeting app and online program
Signage at the meeting and banner ads on the online program
Post-meeting attendee list
Company listing (and link to your website) on the meeting website
Listing and recognition in ASAS Taking Stock and CSAS Matters
Gold Level: $7,500 - $14,999
Complimentary exhibit booth (includes two full meeting registrations)
One additional complimentary full meeting registration
Company listing in the meeting app and online program
Signage at the meeting and banner ads on the online program
Post-meeting attendee list
Company listing (and link to your website) on the meeting website
Listing and recognition in ASAS Taking Stock and CSAS Matters
Silver Level: $5,000 - $7,499
One complimentary full meeting registration
Company listing in the meeting app
Signage at the meeting and side menu ads on the online program
Post-meeting attendee list
Company listing (and link to your website) on the meeting website
Listing and recognition in ASAS Taking Stock and CSAS Matters
Bronze Level: $2,500 - $4,999
Company listing in the meeting app
Signage at the meeting
Post-meeting attendee list
Company listing (and link to your website) on the meeting website
Listing and recognition in ASAS Taking Stock and CSAS Matters
Donor Level: Up to $2,499
Company listing in the meeting app
Signage at the meeting and side menu ads on the online program
Company listing (and link to your website) on the meeting website
Listing and recognition in ASAS Taking Stock and CSAS Matters