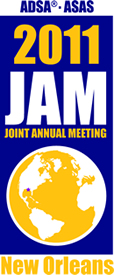 By Angie Mays
Graduate Student Director
At this year's JAM, graduate students were active in learning how to enhance their abilities through communication and technology. The graduate student activities began Sunday afternoon at JAM with a Graduate Student Grant Writing Workshop. Graduate students interested in improving their grant writing skills preregistered and attended this successful event.
Events continued Monday with our Open Forum where graduate students from all over met and discussed ways to continue to improve the graduate student events at JAM, as well as discuss the opportunity for nominations for Sectional or National Graduate Director positions next year. Monday afternoon the graduate symposium "Becoming Your Own Best Advocate: How to Expand and Communicate Your Skills and Qualifications" was a great success with many graduate students attending. Graduate students interested in marketing themselves more efficiently upon graduation attended to listen to talks ranging from preparing an effective CV, grantsmanship, maximizing the graduate student experience, and becoming your own personal brand.
On Tuesday, the Graduate Student Lunch and Learn continued with the theme of "Becoming Your Own Best Advocate" with an emphasis on "Using Technology to your Advantage." Enlightening information was provided from our presenters that ranged from industry humans relations specialists to experienced faculty. Great discussion and questions from the graduate students who attended helped to make this event very successful. Tuesday also featured the unveiling of the ASAS Video Competition, where students can submit videos highlighting "Life as an Animal Scientist" or "Welcome to Animal Agriculture."
Tuesday night finished with the Graduate Student Mixer on Bourbon Street. Bourbon Cowboy was the place to be with over 300 graduate students attending this event!
On Wednesday, graduate students met in a small-group setting to discuss funding and priorities with Dr. Cathie Woteki, the Undersecretary of USDA's Research, Education, and Economics area. Dr. Woteki is also USDA's chief scientist and administers competitive grants for USDA and the formula funding provided to land-grant universities for research and extension. Student activities were wrapped up on Thursday with a full day of workshops on poster and oral presentations.
Overall, this year's graduate student events were very successful, and we look forward to seeing you all at next year's JAM!