From Oct. 4-7, ASAS and the Asociación Argentina de Producción Animal (AAPA) will gather in Mar del Plata, Argentina for their first joint meeting. AAPA is going to be a great host, and to prepare us for the meeting, they've provided a series of articles to help you get to know the speakers.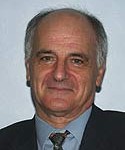 Dr. Gilles Lemaire received his PhD from the University of Caen,  France. He worked as the Director of Research, French National Institute  for Agricultural Research, Lusignan, France, following a position as  Deputy-Director of theEnvironment and Agronomy Department of INRA  (1990-2002).
In the last decade he developed an outstanding activity related  to the Ecosystemic Role of Pastures in Agro Environments: Co-Chairman of  the Scientific Committee for the Programme National Biosphère  Continental (PNBC) INSU; Responsible for the research project PRAITERRE:  "Prairies, TERritoires, Ressources et Environnement »; Responsible  for  the Observatories of Research in Environment for "Grasslands,  Biogeochemical Cycles and Biodiversity"; Coordinator of the European  project Design Study for Research Infrastructure ANAEE : Analysis and  Experimentation on Ecosystems. He has scientific expertise in Agronomy  and Grassland Ecology, Plant Ecophysiology, Grassland Agronomy,  Plant-Animal interactions, Nitrogen Use Efficiency, Sustainable farming  systems. He has published more than 100 peer reviewed papers in  international journals, 15 chapters of books and 11 invited conferences.
Dr. Gilles Lemaire will present a conference on "Long-Term  Experimental Platforms: an innovative perspective to monitor and model  the environmental impacts of livestock and croping".