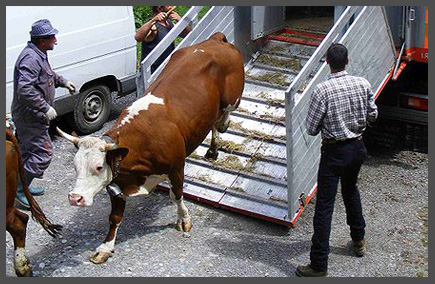 By Amy Stewart
According to a study by researchers at Kansas State University, excessive travel can have detrimental effects on the respiratory health and overall performance of cattle. In a paper published online ahead of print by the Journal of Animal Science, the researchers reported that male cattle, post-weaning cattle and cattle traveling during the summer showed increased risk for contracting Bovine Respiratory Disease Complex (BRD); BRD can be fatal to cattle, and cattle that survive can have long-term lung problems.
The researchers measured the distance that cattle in different feedlots traveled across the United States and compared that distance with rates of BRD. They also looked at health indicators like body weight they gained after travel and the weight of the unchilled carcass after slaughter.    
"BRD is the most common and costly disease of cattle in the post-weaning phase," said Brad White, coauthor of the paper and associate professor of production medicine at Kansas State University. "We wanted to identify potential factors that may help us better understand and manage BRD with improved preventative and therapeutic plans."
Lighter weight cattle were found to be at greater risk of BRD than heavier cattle, which White said may because they were younger at time of transport. The risk of BRD is greatest in the early post-weaning phase. Male cattle also showed an increased risk, though the reason for this is difficult to determine because this study did not distinguish between castrated and non-castrated males.
The study showed that cattle morbidity during transports peaks in the summer and early fall. According to White, this seasonal difference could be due to high temperatures and humidity in summer and the transport of less robust post-weaning cattle in the fall.
"I think it is important to consider if strategies could be implemented prior to transit to mitigate the disease risk associated with these groups," White said.
This study was observational, so White did not draw conclusions about the cause of the correlation between travel and BRD. However, he and his fellow researchers noted in the paper that the strength of the study is its wide representation of different groups of cattle. Across all groups studied, the same trends persisted; body weight, sex of the calf and time of the year were important factors in increased risk of BRD during transport.
This study was titled "Effects of weight loss during transit from sale barns to commercial feedlots on health and performance in feeder cattle cohorts arriving to feedlots from 2000 to 2008." It can be read in full at jas.fass.org.  
Media Contacts:
Brad J. White, bwhite@vet.ksu.edu
Amy Stewart, amystewart@ucdavis.edu, (805) 708-8561