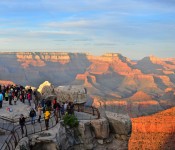 Planning your trip to the Joint Annual Meeting? Make some time to relax and enjoy Arizona. There will be great activities this summer for visitors of all ages:
Arizona is a beautiful place to experience the great outdoors. Take a daytrip to Sedona and cool off in the natural waterslides at Slide Rock State Park. Or stay in Phoenix and visit the Desert Botanical Gardens for Summer Flashlight Tours. Want a different perspective? Take a Scenic Skyride above the treetops at the Arizona Snowbowl. The Grand Canyon is just a half-day drive from Phoenix. Take photos, go hiking and see the unique geology of one of the natural wonders of the world.  
Phoenix is also a perfect place to see the art and culture of the American Southwest. The Heard Museum in Phoenix has a renowned collection of Native American art and historical exhibits. Drive over to the town of Holbrook to see a free demonstration of Native American Dances, or head to nearby Prescott for the 15th Annual Prescott Indian Art Market. And just outside Phoenix is a chance to see the desert lodges designed by Frank Lloyd Wright.
Are you a foodie? See the list of Arizona's Classic Steakhouses or pick one of Arizona's "Restaurants with a View."
There are activities for sports fans too. On July 20, the day after JAM, the Arizona Diamondbacks are playing the Houston Astros at Chase Field. A visit to the stadium is worth it just to see the trademark retractable roof and the swimming pool behind right-center field. Looking to play some golf? Check out the gorgeous courses at the La Paloma Country Club in Tucson.
So take some time this July to enjoy the scenery and events surrounding our Joint Annual Meeting. For more visitor information, go to: http://www.arizonaguide.com