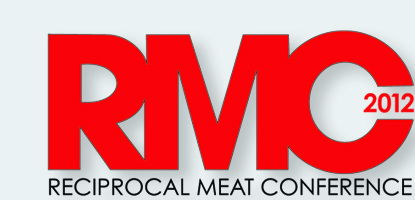 By Madeline McCurry-Schmidt / ASAS Communications
Last week, meat scientists met for the 65th annual Reciprocal Meat Conference. The conference, held in Fargo, ND by the American Meat Science Association, featured scientific talks from scientists around the world. Many of the talks focused on how the meat industry can help feed the world's growing population.
"I think there's a great opportunity to increase meat production," said Monday's keynote speaker Michael Dikeman, a professor of meat science at Kansas State University. "Genetics, nutrition and technology must complement each other."
Genetics
Matt Spangler, an assistant professor and extension specialist at the university of Nebraska, Lincoln, sees genomics as one tool to increase production. He said genomics will be more useful as producers submit more herd information to scientists.
"If you don't have data in place, genomics is going to do you no good," said Spangler during a concurrent session on Monday morning. "We need to be more sophisticated in how we breed cattle."
Genomics could also lead to advances in the pork industry.
"The pig gene should be fully sequenced and put on the net for everybody hopefully this year," said Monday morning speaker Andrzej Sosnicki, director of Performance Validation, PIC North America.
Sosnicki said that collecting data on pig feed intake could help scientists understand more about the genes that affect feed efficiency.
"Those feeding habits can have a tremendous impact," Sosnicki said.
Health
Mike Tokach, an assistant professor and extension leader from Kansas State University, explained that it is also important to study the effects of pig litter size on pig health. He said that since 1930, the U.S. pork industry has reduced the number of sows by 40 percent and increased pork production by 230 percent. This means big increases in pig size and litter numbers.
"It's quite phenomenal," said Tokach in a concurrent session on Monday morning. "Preweaning mortality unfortunately comes along with that, just a little bit."
While scientists and producers look for ways to reduce mortality, many are also researching the effects of byproducts on animal health. Feeding pigs byproducts like wheat middlings can save producers money and make the production more sustainable. Tokach said that this shift from corn and soybeans to byproducts should not hurt pig health if producers are careful.
"We know that we can feed large amount of byproducts without hurting ourselves," Tokach said.
Salmonella
Of course, food production requires measures for food safety. Betsy Booran, director of scientific affairs for the American Meat Industry gave a talk titled "Understanding the Public Health Significance of Salmonella." Booran presented data from the CDC showing that Salmonella is responsible for 35 percent of food-borne illness-related hospitalizations. The yearly number of Salmonella infections has not dropped in 15 years. Booran said that the food industry works to prevent contamination, but better tracking of infections and identification of contaminated food could make food even safer.
"There are a lot of unknowns about Salmonella in foods," Booran said.
Outreach
Several speakers focused on the need to educate the public about meat science and production. Public concerns over animal welfare and products like "pink slime" are often publicized without perspectives from meat producers themselves.
"Tell your story first," said Tuesday's keynote speaker Phillip Minerich, vice president of research and development for Hormal Foods. "Tell it often."
Minerich said outreach is increasingly important as the number of farmers in the United States continues to decline. He called the lack of young people in agriculture a "crisis."
"Somebody has to learn how to grow the wheat," Minerich said.
To learn more about the 2012 Reciprocal Meat Conference, go to: http://takingstock.asas.org//?s=RMC