By Madeline McCurry-Schmidt / ASAS Communications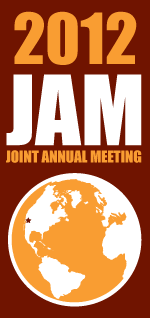 Since growing in popularity as a forage, fescue has earned a reputation as a sort of gamble. In some areas, fescue contains toxic fungal endophytes that can overload foraging animals with harmful alkaloids.
But new research shows that some types of fescue contain endophytes that could actually improve animal production. This research will be presented in a symposium titled, "Impact of fungal-endophytes on pasture and environmental sustainability," held on July 16 at the 2012 Joint Annual Meeting.
Steve Washburn, professor and extension specialist at North Carolina State University, will be one of the chairs of this Forages and Pastures Symposium. Washburn said the non-toxic could be a "win-win" for producers.
"Fescue has been a very productive and persistent forage," Washburn said.
If producers can replace toxic fescue with fescue containing "friendly endophytes," they could improve animal health and the environmental sustainability of production.
"We may be able to gradually replace all these acreages of old [toxic] Kentucky 31 fescue," Washburn said.
Washburn said the symposium could be useful for scientists and producers working in many fields.
"If animals are going to reproduce, they need to eat, and they need to eat well," Washburn said.
To learn more about the Joint Annual Meeting or view the scientific program, go to: jtmtg.org.