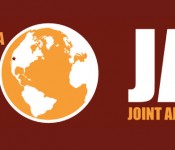 By Lauren Williams/ ASAS Communications
At the JAM preconference symposium on July 15, ASAS President- elect Jim Sartin and American Society of Nutrition President-elect Teresa Davis welcomed the attendees to the symposium and were very excited about the topics for the day. The presentations highlighted a very important concept that is becoming ever-present in today's society: obesity.
The first presentation entitled "Role of the central melanocortin system in appetite regulation and nutrient homeostasis" was led by Dr. Roger Cone of Vanderbilt University. Cone's research is at the forefront of studying the brain and the role it plays in weight regulation. He started the presentation by pointing out that in 1992, there were no known obesity genes, but now much more is known about genes thanks in part to research on genes responsible for weight control in mice. Scientists now are aware of five known melanocortin receptors.
Cone's talk focused on the MC4-R receptor and the concept of melanocortin obesity syndromes due to the absence of MC4-R signaling.
"What are the reasons for obesity ?" Cone asked.
In Cone's research, researchers looked at even if the subject is eating a diet for leanness, they will still gain weight due to a lack of MC4-R. MC-4 impacts autonomic, endocrine and behavioral effector pathways to balance energy intake and expenditure so as to maintain energy homeostasis. The central melanocortin system regulates metabolism and is important for intake regulation. Through his studies, Cone found that mice fed different types of foods will adjust and they are better able to maintain their weight, but mice with MC4-R inhibited are more likely to have a large fluctuation in weight when fed different diets.
Cone concluded by saying that the central melancortin system regulates a wide variety of physiological and behavioral systems to mediate energy homeostatis. This system also regulates feeding in response to both acute satiety and hunger. This is a complex topic but the research on mice is quite valuable due to its close association to humans obesity.
Other presentations included:
"The regulation of hepatic glucose uptake in vivo" by A. Cherrington, Vanderbilt University School of Medicine
"Active and reactive amino acids homeostasis during ageing, feeding, and disease" by G.E. Lobley, University of Aberdeen (Aberdeen, UK)
"Adipose and endocrine integration of metabolism" by P.E. Scherer, UT Southwestern Medical Center
"Heat stress and post-absorptive metabolic perturbations" by L.H. Baumgard, Iowa State University
"Linoleic acid and inflammation: Evidence-based research from human clinical studies" by K.L. Fritsche, University of Missouri
"Microbial hydrogen metabolism in colonic health and disease" by H.R. Gaskins, University of Illinois
"Characterizing the cellular mechanisms of postpradial thermogenesis in skeletal muscle" by B.A. Henry, Monash University (Victoria, Australia)
The 2012 Joint Annual Meeting  runs from Sunday, July 15 to Thursday, July 19. To purchase a copy of the preconference proceedings or other JAM proceedings, click here.