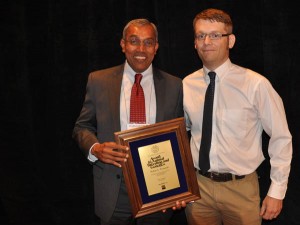 July 16, 2012 – Rohan Fernando, professor of animal science at Iowa State University, received the 2012 Rockefeller Prentice Memorial Award in Animal Breeding and Genetics from the American Society of Animal Science. He was honored at the society's annual meeting in Phoenix, AZ.
Fernando is an international leader in statistical genetics. His research focuses on the data and algorithms needed to make informed decisions about animal breeding. His research into the molecular information needed for animal breeding has improved animal health and the selection of livestock animals with superior genes. These contributions have been presented in 126 peer-reviewed publications and 75 invited talks, seminars and courses in 16 countries.
Fernando has taught courses and given workshops in Applied Statistics, Quantitative Genetics, QTL Mapping, Population Genetics, Mixed Linear Models, Animal Breeding, Bioinformatics, Computer Programming, and Genomic Selection in the United States, and several other countries including Argentina, Australia, Brazil, China, Netherlands, Norway, and Switzerland.  He has served as major or co-major advisor for three M.S., 11 Ph.D., and eight postdoctoral students, with current advisees including one M.S., three Ph.D. and one postdoctoral student. He is currently an associate editor for Frontiers in Livestock Genomics.
The Rockefeller Prentice Memorial Award in Animal Breeding and Genetics is given to scientists who have contributed basic or applied research in breeding and genetics with any class of large or small animals. The 2012 award was sponsored by ABS Global.
Media contact:
Madeline McCurry-Schmidt
ASAS Scientific Communications Associate
217-689-2435
Madelinems@asas.org