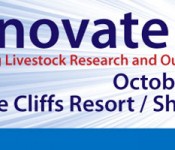 Funding new agricultural research will require the expertise of agricultural economists. At the Innovate 2012 meeting this October, Andy Novakovic, an agricultural economics professor from Cornell University, will give a talk titled "Is it time for a new business model to support agricultural research? An economist's perspective."
Novakovic not only studies agricultural economics, he has also worked for years to connect with researchers and producers. He has served as chair of the USDA Dairy Industry Advisory Committee and written many articles on food policy, food markets and trade policy.
Novakovic is not afraid to point out when there are problems in agricultural policy and practices. In a Dec. 2012 interview with Prairie Farmer, Novakovic said:
"When you have 30 or more people sitting around tables (in House committee sessions) representing different elements of agriculture and consumer interests, it's difficult to get any legislation out of committee."
So how can legislators, researchers and industry work together? Novakovic's perspective could help all sides learn more.
Novakovic's talk will be held on Oct. 4 as part of the three-day Innovate 2012 program. Innovate 2012 is a conference to bring together leaders in public and private organizations for a discussion of new funding models and support for livestock research.
Learn more about Innovate 2012
View the Innovate 2012 program