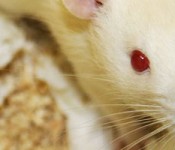 Official statement from the American Society of Animal Science Board of Directors
Sept. 20, 2012 — A new Journal of Food and Chemical Toxicology study titled "Long term toxicity of a Roundup herbicide and a Roundup-tolerant genetically modified maize" does not follow universal standards for a scientific experiment. The researchers' conclusion that Roundup herbicide or a diet of genetically modified (GM) corn leads to tumors in rats is based on a poorly designed experiment and unreliable statistics.
A scientific experiment requires that researchers compare results in an experimental group with a "control" group. In this new study, the control group was given non-GM corn and Roundup-free water. Unfortunately, the control group in this study had only 10 rats of each sex. Testing just twenty rats cannot lead to statistically significant results for this type of experiment.
"This was a poorly designed study lacking in size—particularly in terms of control numbers—and lacking statistical power to make any conclusions about the results," said Dr. Alison Van Eenennaam, Cooperative Extension Specialist in Animal Genomics and Biotechnology at the University of California, Davis. "I am frankly shocked that any reviewer would have accepted this paper."
The researchers claimed that 50 to 80 percent of rats given GM corn or water with low levels of Roundup herbicide had tumors after two years. This is unsurprising. It is common knowledge that the rat strain used in the experiment has a more than 80 percent chance of growing tumors within two years under non-experimental conditions.
"I think someone who had taken a basic biology or statistics class could have rejected this paper," said Dr. Bruce Chassy, Professor Emeritus in Food Science and Human Nutrition at the University of Illinois.
Chassy said there have been over 200 studies comparing GM food and non-GM food in at least 15 animal species, and almost every study shows no difference in animal health. Chassy said researchers who use an unscientific method to warn against GM foods often have a political or economic goal. He explained that the lead author of the new study is also the leader of an anti-GM lobbying group called CRIIGEN.
The American Society of Animal Science believes it is appropriate to test new foods for safety, and GM crops have proven safe in hundreds of scientifically rigorous experiments.
Contacts:
Dr. Alison Van Eenennaam
University of California, Davis
Animal Genomics and Biotechnology
alvaneenennaam@ucdavis.edu / 530-752-7942
Dr. Bruce Chassy
University of Illinois
Food Science and Human Nutrition
bchassy@illinois.edu
Dr. Meghan Wulster-Radcliffe
American Society of Animal Science
Chief Executive Officer
meghanwr@asas.org / 217-689-2431
Madeline McCurry-Schmidt
ASAS Communications
madelinems@asas.org / 217-689-2435
Related resources:
Expert reaction to GM maize causing tumours in rats
Suzuki H, et al. Spontaneous endocrine tumors in Sprague-Dawley rats. Journal of Cancer Research and Clinical Oncology. (1979)