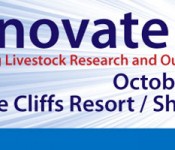 From Oct. 3-5, 2012, the first-ever ASAS Innovate conference will be broadcast live online. The focus of this year's conference is "Funding Livestock Research and Outreach in the Future."
Webinar attendees can watch a live stream of the Innovate 2012 speaker slides and audio from the conference. Webinar attendees can also ask questions live during the session Q&As. Those who register for the webinar will also have access to Innovate 2012 recordings after the conference.
Rates:
ASAS Members: $150
Non-members: $250
To register for the webinar, go to the ASAS shop. Once you register, you will receive an e-mail with login information.
Suggested uses:
– Utilize the webinar as part of an animal science or agriculture economics course
– Assemble your colleagues and view the webinar as a discussion group.
– Apply aspects of the webinar as references in your research and publications
– Benefit from the ability to connect with these amazing speakers and learn more about their work.
To make the most of this webinar, you may also want to read the ASAS Grand Challenges. The Grand Challenges focus on animal health, climate change, food safety, global food security and animal well-being. Innovate 2012 addresses how animal scientists will get the funding and support to address these challenges and continue to feed the world.