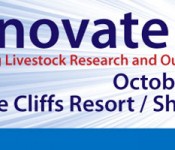 By Madeline McCurry-Schmidt / ASAS Communications
According to Jeff Armstrong, president of Cal Poly and a former animal science professor, animal scientists could learn a lot from crop scientists. During the opening address of Innovate 2012, Armstrong said that as state and federal funding fell in agriculture, crop scientists worked together to bring in industry dollars.
"That's a group that pushed forward," Armstrong said. "They're a good example."
The success of crop scientists is not news for many animal scientists. Since the 1990s, animal scientists have seen state and federal funding slow down while funding for areas like specialty crops increased. Today, animal science research receives about 20 percent of agriculture funding despite holding more than 40 percent of the agriculture market, said Armstrong.
"We've got inadequate support," said Armstrong.
So what can animal scientists do? Armstrong gave a few suggestions.
Armstrong said animal science university departments could better hone their programs to fit regional needs. For example, Armstrong said, funding for dairy science programs in the southern United States might not have a good return on investment because dairy is not a major commodity from that region.
Animal scientists could also work to develop more long-term programs, said Armstrong. He said that after seeing budget cuts at many universities, the animal industry is understandably nervous about supporting long-term research. If universities could team-up, long-term research could be more sustainable.
"The industry needs a long-term commitment," said Armstrong.
Armstrong emphasized the importance of nurturing "talent" in the animal sciences. He said that besides providing funding, the animal industry could continue to provide facilities, animals and equipment. With adequate support, universities can supply talented scientists to help the industry move forward. Armstrong said talented animal scientists are especially important as the industry struggles with issues like animal welfare concerns.
"Factors beyond science are at play," said Armstrong. "Figure out ways to be proactive."
By communicating with industry, partnering with other universities and addressing consumer concerns, animal scientists could establish long-term, educational research programs.
Armstrong warned that animal science programs that do not change might not last.
"Doing nothing is a decision," said Armstrong.
Innovate 2012 is a three-day conference on "Funding Livestock Research and Outreach in the Future." It is also being broadcast live via webinar. Learn more: http://asas.org/meetings/innovate-2012