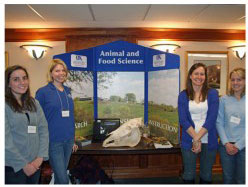 By Amanda Davis / ASAS Graduate Director
The University of Kentucky's Animal and Food Sciences Graduate Association (UK AFSGA) is a growing organization with 27 current members.  As Members of AFSGA, graduate students are provided with opportunities for leadership, networking, community outreach, career resources and professional development.  Although the University of Kentucky's AFSGA is a growing organization in only its third year of activity, many exciting programs are already underway.
What are we involved in?
Professional Development
AFSGA Annual Career Panel – Allows graduate students to ask questions concerning future careers and opportunities as well as networking with local academic and industry professionals.