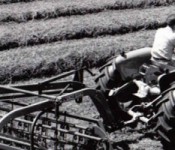 Photo submitter Hoard's Dairyman writes, "Typically during the 1950's in the United States, after hay was mowed with a sickle bar mower, it was permitted to dry either to about 60 to 70% moisture (30 to 40% DM) to be ensiled, or to about 15 to 16% moisture (84 to 85% DM) to be baled. Leaf loss was excessive when hay was dried to 10% moisture before baling whereas a moisture content of 25% (75% DM) often resulted in mold growth in the bales. In good weather, a few hours before chopping or 0.5 to 1.0 day before baling, the hay was raked into windrows as shown here to facilitate uptake by the chopper or the baler.
This rake was towed by a tractor, and the rotating side delivery mechanism was powered from the rear wheels of the rake. Raking was timed to minimize loss of nutrient rich leaves that were lost when hay was baled with as little as 10% moisture. In areas with limited precipitation, hay bales often were stacked out doors with minimal loss of nutrients."
The photo can be found in the Animal Science Image Gallery, image number 4699. The gallery is a joint project of the American Society of Animal Science and the National Agricultural Library. Go to the site to see more photos or submit your own.