Letter from Steve Zinn, Journal of Animal Science, Editor-in-Chief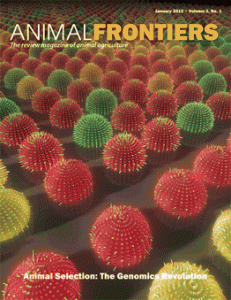 This year has been monumental for the Journal of Animal Science (JAS). Not since moving to the electronic journal have we had so many changes, but the changes have mainly been behind the scenes with authors and readers not yet seeing tangible benefits! Therefore, we are happy to announce that the changes will begin to be apparent to authors and readers in January 2013. It has been an active 8 months, with ups and downs and we appreciate everyone's patience as we have lived in what has often felt like a "construction zone". We are optimistic that the modernized look, enhanced online options, and revamped workflow to allow for faster publication will be worth the renovation time.
Modernized style and form: In January, readers will instantly notice new covers. To further showcase the science put forth by our authors, we are moving to research-based covers. The Editor-in-Chief with the Editorial staff will choose a photo or graph and work with authors for each issue to use scientific "artwork" as a cover.
Additionally, we are making some minor changes to our article style and format to modernize the look and feel of the articles. The formatting changes are detailed in the updated style and form. Please review these as you submit papers to JAS: http://www.journalofanimalscience.org/site/misc/JAS-InstructionsToAuthors.pdf.
And finally, we will add statements of conflict to the print journal. Times have changed and the public demands enhanced transparency and as such we will ask authors to list any potential conflicts.
Enhanced online options: In July we released the ASAS Publications Ap for the iPad and iPhone (ASAS Pubs). We have already had the first set of updates to the Ap and in 2013, we will add an Android version of the Ap soon. We also moved towards electronic collection of copyright in 2012. In 2013, for the first time we will add a true unified login in between the ASAS website and the JAS website. Passwords will be the same and beginning in January, you will only need to sign onto one of the sites not both. We are also adding instant access with renewal. Currently, access to the journal is given within 7 days of joining or renewing. Beginning in January it will be simultaneous.
Revamped workflow: ASAS is making aggressive changes to the workflow associated with the journal to ensure rapid publication. These changes would not have been possible without the efforts and the new technologies offered to us by ACSESS our publication partner And the continued excellent work of our dedicated editors and reviewers. Beginning with submissions in January 2013, the goal will be to reduce the time from submission to printed publication to the gold standard of 6 months.
Even in a period of aggressive change, JAS has had a record breaking year. In 2012, we are on track to publish 5,300 pages across 13 issues of JAS. In addition to the 13 issues, we are publishing 4 supplements containing more than 1,000 additional peer-reviewed pages. We have published 15 interpretative summaries in the ASAS newsletter Taking Stock based on research presented the journal, which have been re-published or referenced in over 30 sources, increasing the visibility and distribution of data produced by our authors.
And finally, as I prepare to step down as Editor-in-Chief, we are beginning the process of identifying the next JAS EiC.  It has been exciting 5 years where I have watched the JAS continue to grow and flourish and I have had the opportunity to work with an excellent group of editors, reviewers and authors that have contributed to the continued development and success of JAS. Together, we have spent 5 years, building the journal, increasing submissions, increasing the number of published pages, increasing our impact factor, solidifying our workflow and infrastructure, and positioning the journal to allow for faster publication of accepted manuscripts. The next EiC will be charged with linking all of the publication and communication efforts of ASAS, moving JAS into the age of digital libraries, developing publication mentorship programs and continuing to develop relationships with our current and future global partners on delivery of scientific information, without losing sight of our commitment to publish the highest quality journal for animal scientists around the world.