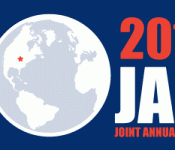 ADSA-ASAS are pleased to remind our members to save the following dates the 2013 Joint Annual Meeting (JAM) in Indianapolis, IN: July 8-12, 2013. Please note that the meeting starts on Monday. The joint program committee has been busy pulling together a robust and outstanding scientific program. We will have more than 35 symposia and at least two high-level workshops.
We are pleased to return to Indianapolis where we expect to host 3,000+ scientists from more than 50 countries. The city has offered us a number of amenities that will enhance the overall experience of the meeting for all participants. Information about our meeting can be found on the website: http://www.jtmtg.org/2013/. Abstract submission is open, we are taking special event requests and we will soon open the housing reservation system and registration.
A number of previous JAM attendees have written to ADSA and ASAS to inquire about the International Conference on Animal and Dairy Sciences from July 23-24 in Las Vegas, NV. Please note this is not the 2013 JAM and neither ADSA nor ASAS is any way  associated with this OMIC Publishing meeting. Both ADSA and ASAS welcome and encourage all venues of scientific exchange and hope that this conference meets the expectations of the organizers. However, we wanted to confirm the date and location of JAM 2013 to reduce confusion and clarify that this meeting is not affiliated or supported by either ADSA or ASAS.