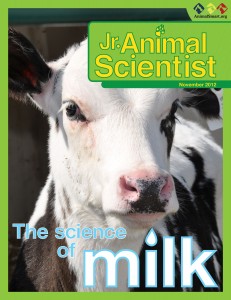 Jr. Animal Scientist membership is a great gift for the students in your life! With this membership, kids ages 6 to 12 can spend the year learning about animal science and animal careers.
The Jr. Animal Scientist magazine and the online resources feature eye-catching animal photos, fun activities and in-depth articles. Plus, Jr. Animal Scientists will receive a welcome box of with a Jr. Animal Scientist backpack and water bottle.
And don't forget the educators on your list! You can also order the Jr. Animal Scientist magazine for classrooms, 4-H, FFA and other youth programs. Copies of the magazine will be sent to the classroom or youth program year around. Students will also get access to online resources.
Go to AnimalSmart.org/JrAS for more information.