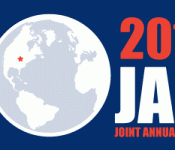 Over three years ago, ASAS and ADSA began a joint strategic planning initiative to improve the Joint Annual Meeting (JAM). During that time, committee appointees from ASAS and ADSA met multiple times to discuss a variety of issues related to JAM. At times it seemed the process was slow or stalled; however, ASAS and ADSA are excited to announce that we have developed and agreed upon a plan that allows both societies to move JAM forward together. The process solidified the importance of the partnership between ASAS and ADSA, identified what we do well, where we need improvement, and allowed creation of mechanisms that ensure both societies are able to grow JAM in response to their joint and individual membership needs.
We are in the process of preparing a Memorandum of Understanding (MOU) between ASAS and ADSA that details each society's commitment and management of future JAMs. The MOU should be approved and signed by both the ASAS and ADSA Board of Directors during our Mid-Year Board Meetings in February 2013.
Both societies would like to take a moment to thank the committee members involved over the last three years:
JAM Strategic Planning Committee
Dave Barbano, ADSA
Margaret Benson, ASAS
Ric Grummer, ADSA
Greg Lardy, ASAS
Mike Lilburn, PSA (ex officio)
Steven Lonergan, ASAS
Leo Timms, ADSA
JAM Way Forward Committee
Margaret Benson (chair, ASAS)
Bob Roberts (chair, ADSA)
Ronnie Green, ASAS
Rick Grummer, ADSA
Greg Lardy, ASAS
Jim Linn, ADSA
Ken McGuffey, ADSA
James Sartin, ASAS
Peter Studney (ex-officio, ADSA)
Phil Tong, ADSA
Jerry Weigel, ASAS
Meghan Wulster-Radcliffe (ex-officio, ASAS)
More details concerning JAM will come out over the next several months. We want to take a moment to thank the committees for their hard work and diligence. We also want to let the membership know that both societies are committed to JAM and the value it brings to our membership. We have solidified this partnership for years to come.