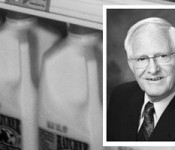 This appreciation club honors the contributions of Dr. David Schingoethe by supporting a yearly ADSA-ASAS Midwest meeting symposium in his name.
The symposium is a fitting tribute to Schingoethe's career. Since 1969, Schingoethe has worked as a professor in the dairy sciences. His research into amino acids changed how his colleagues and the industry understood milk proteins and dairy cattle nutrition. His feeding trials with ruminally protected methionine and lysine improved the milk we drink today.
Schingoethe gave the opening address at the inaugural Schingoethe Symposium in March, 2012. As a veteran in the field, Schingoethe shared the history of amino acid research in lactating dairy cows. Schingoethe also looked toward the future. He said new research could focus on issues like synthesis of ruminal microbial protein, amino acid requirements and absorption of amino acids.
The Schingoethe Symposium could be a perfect place to share that research.
The David J. Schingoethe Appreciation club is managed by the ASAS Foundation. Fundraising occurs year-round to ensure the symposium continues for future ADSA-ASAS Midwest meetings.
Learn more about the symposium