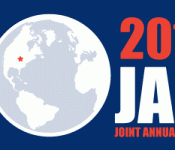 Theme:  Animal Welfare and Bioethics Issues

ASAS and ADSA members, including students, are offered an opportunity to participate in an innovative open workshop in the area of animal welfare and bioethics issues. The workshop will be held at the 2013 ADSA-ASAS Joint Annual Meeting. The workshop keynote speaker is Kevin Murphy (Food Chain Communications/Truth in Food), who will be followed by solicited papers. All solicited papers will be submitted as part of the abstract process, with a committee screening papers to fit the time period provided. Excess papers will move to a separate Animal Welfare/Bioethics abstract session. Four submitted papers will be scheduled for 30 minutes each, and may cover one or more themes that relate to the theme of bioethics and animal welfare. An attempt will be made to schedule at least one student paper.
The Keynote presentation title is: " The Food Morality Movement" (e.g., arguments over modern day food production are bypassing the thrust of the scientific community and winning in the court of public opinion. What must scientists do to adjust? What are the consequences of using only one way of thinking to evaluate animal welfare?). You may provide comments that relate to the theme of bioethics and animal welfare and/or the keynote presentation. If you are interested in participating, please submit an abstract on any topic under this theme, according to the abstract submission rules. If you want the full symposium notice that includes ideas of topics, please contact: Richard Reynnells, Chair, Reynnells2@gmail.com, T#: 301.518.7010.
Submit an abstract: http://www.jtmtg.org/2013/call.asp