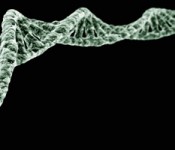 By Sandra Avant / USDA-ARS
When it comes to pork production, getting sows or gilts to be more productive is a key factor and a high priority for the industry. Females are often removed from the herd due to reproductive failure after only producing one or two litters, which is costly to swine producers.
Citing previous research, which indicates a link between fat development and reproduction in different animal species, scientists at our ARS Roman L. Hruska U.S. Meat Animal Research Center (USMARC) in Clay Center, Neb., examined variations in the DNA sequences of four candidate genes known to have a direct or indirect relationship to fatness in swine. Only one of the genes—thyroid hormone responsive protein (THRSP)—was significantly associated with reproductive efficiency.
To make this determination, physiologist Lea Rempel, geneticist Gary Rohrer and molecular biologist Danny Nonneman in the Reproduction Research Unit at USMARC, assessed polymorphisms, which are naturally existing alterations in the DNA, in the four genes. The researchers wanted to see if these polymorphisms were associated with certain reproductive traits: age at puberty, ovulation rate and weaning-to-estrus interval.
After stringent testing, THRSP was the only gene that showed crucial evidence related to reproductive performance in the Landrace-Duroc-Yorkshire pigs that were tested. Additional swine genetic lines will now be tested to find out if there is an association of THRSP with fat development and reproduction.
According to Rempel, before valid genetic markers can be identified, it's necessary to gather physiological trait information such as body weight and metabolic activity of lactating sows, which are female pigs that have given birth and are nursing.  The team is examining how these traits influence reproductive competency following weaning for the next litter.
This information, along with the genetic data gathered in this study, could potentially help identify females that would be more likely to efficiently handle the demands of lactation or milk production and remain in the breeding herd for a longer period of time through improved reproductive efficiency and production.
ARS is the chief intramural scientific research agency of the U.S. Department of Agriculture (USDA). These research findings, which were published in Animal Genetics, support the USDA priorities of promoting international food security and agricultural sustainability.
SCIENTIFIC CONTACT:  Lea Rempel, ARS U.S. Meat Animal Research Center, Clay Center, Neb., phone (402) 762-4185, e-mail lea.rempel@ars.usda.gov.
FOR FURTHER READING:
Test identifies Red Angus carriers of bone disease
Keeping cattle cool and stress-free is goal of ARS study