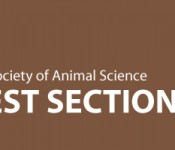 From March 11 to 13, animal and dairy scientists will learn and network at the 2013 ADSA Midwest Branch / ASAS Midwestern Section Meeting in Des Moines, IA.
You can view the program online. Here are a few highlight from this year's meeting:
Monday
The meeting kicks off at 8:00 am with the Gary Allee Symposium on "Science and Practice." Symposium attendees will learn about new research to improve and measure fat quality in swine carcasses.
In the afternoon, attendees can sit in on the David H. Baker Amino Acid Symposium or drop by the undergraduate or graduate presentations.
At 7:00 pm, attendees can root for their favorite teams in the Midwest Section Academic Quadrathlon. Wrap up day by enjoying a drink and some hors d'oeuvres at the Program Committee Reception at the Renaissance Savery Hotel.
Tuesday
This is a busy day! Check out the program and decide between symposia on animal behavior, sow housing, breeding and genetics, nonruminant nutrition, meat science, physiology, ruminant nutrition and teaching.
If you're interested in feedstuffs and nutrition, you might learn a lot at the "Opportunities of soybean meal characteristics symposium" at 1:00 pm.
The day ends with a chance to network at a reception in the Grand Ballroom.
Wednesday
Wake up bright and early! The 2013 Business Meeting and Awards Ceremony starts at 6:45 am in the Grand Ballroom. Eat some breakfast, learn about ASAS and ADSA, and honor your hard-working students and colleagues.
There are also two Extension symposia on the schedule. Choose between swine and ruminant Extension research, or you can attend the nonruminant nutrition talks.
The meeting ends with a workshop hosted by Pfizer. Representatives from Pfizer will explain the science behind Improvest temporary immunocastration of swine.
These are just a few of the great symposia and events at the Midwest Meeting this year.