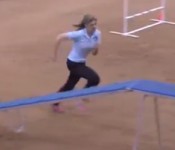 A blur of speed! Over the weekend, ASAS member Dr. Cheryl Morris and her 6-year-old Border Collie, Karma, won the American Kennel Club's National Agility Championship, 16 inch division. To qualify for the competition, Karma and Morris had to meet rigorous standards of performance during American Kennel Club Agility competitions over the previous year.
Correction: Morris no longer works for Omaha's Henry Doorly Zoo. She is now an assistant professor of comparative nutrition in the Department of Animal Science at Iowa State University.

See the video of Karma's prize-winning run!