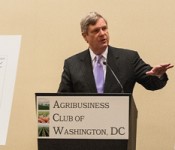 Ag supporters gathered in Washington last week to kick off a week of National Ag Day celebrations and educational events.
On Mar. 18, The U.S. Farmers & Ranchers Alliance hosted a briefing on the new language of food and modern agriculture. Agri-Pulse Communications also organized a panel on "Farm to Fork Politics." The panelists included J.B. Penn, chief economist at Deere & Company; B. Hudson Riehle, senior vice president, National Restaurant Association; and Keith Collins, former USDA chief economist.
U.S. Secretary of Agriculture Tom Vilsack joined the festivities on Mar. 19. Vilsack started the day with an address to the Agribusiness Club of Washington D.C. (pictured). He then joined ag supporters for the National Ag Day Banquet. At the banquet, Vilsack honored the winners of the Ag Day essay, video essay and poster contests.
The Agriculture Council of America began conducting the National Ag Day program in 1973. This year, the U.S. Senate passed a resolution to commemorate the 40th anniversary of National Ag Day. The Senate agreed: "Whereas the agriculture industry is part of the very fabric of the United States, driving the economy, fostering ingenuity, and preserving the deepest values of the people of the United States."
Learn more about National Ag Day
View gallery of National Ag Day events
Photo courtesy USDA