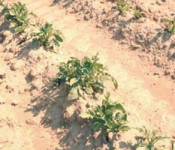 This week's photos were submitted by Oregon State University of and Washington State University. They write:
"The left image shows a close up of a potato plant. The leaf, petiole, and stem are visible, showing insect damage, where only the petiole remains. The image at second left shows early production of potatoes; hills are visible and are utilized to provide maximum growth of tubers and limit greening. The second to the right image is a close up of the flowers, which can be shades of pink, white and purple. The right image is a close up of a potato tuber showing an axillary bud from which root branches will grow, underneath this is the leaf scar, where the scale-like leaf has worn away. Together the axillary bud and the leaf scar form the eye of the potato.
"Potatoes are a palatable cattle feed in areas where cull potatoes are available. Reasons for culling include insufficient size, color, shape, or disease. They can be ensiled in horizontal silos in combination with hay or straw. Feeding is often mechanized because of their bulky nature. They should be fed as a partial replacement of cereal grains. Potatoes are an excellent source of energy, being similar to barley. On a dry basis potatoes contain 70 percent non-structural carbohydrate, while barley contains 60 percent."

There are just some of the feedstuffs photos featured in the Animal Science Image Gallery. Visit the gallery to view more photos or submit your own.