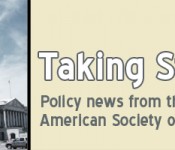 By Madeline McCurry-Schmidt / ASAS Communications
On Apr. 22, the American Society of Animal Science (ASAS) brought experts to Washington D.C. for the first-ever "Snack and Fact." These researchers provided new perspectives on the impact of biofuels on the feed and food supply.
Most of the attendees were staffers for members of the House Committee on Agriculture. These staffers work on issues like food safety, free trade agreements and the Farm Bill.
The first speaker was Dr. Sylvie Brouder, Professor of Agronomy at Purdue University. Brouder studies the relationship between crops and the environment. At the Snack and Fact, Brouder said biofuel crops could include switchgrass and ryegrass, not just corn. These alternative crops could thrive in areas where corn does not grow well.
"Maybe it's time to work a little bit on expanding our portfolio," said Brouder.
Success depends on new research into biofuel options. According to Brouder, agronomists could help farmers grow biofuel crops on their land during the winter. This would help supply the biofuel industry without compromising the food supply.
Animal scientists can also help make biofuel production more efficient. Dr. Galen Erickson, Professor and Beef Feedlot Extension Specialist at the University of Nebraska-Lincoln, explained how farmers can use biofuel co-products in animal feed. Studies show that farmers can partially replace traditional grains without affecting animal growth.
"I think we could even feed more [co-products], but there are some challenges to it," said Erickson.
For example, some co-products contain more oil than grain. When pigs eat these co-products, they develop softer belly fat, which decreases meat quality. Erickson said scientists may overcome this challenge with more research into animal nutrition and feed processing.
Attendees then learned about the economic impact of biofuel production. Dr. Wallace Tyner, James and Lois Ackerman Professor of Agricultural Economics at Purdue University, said that though biofuels are often blamed for higher food and feed prices, other factors are actually bigger drivers in crop price fluctuations.
Crop prices continue to rise because of the growing population and increased demand from other countries. For example, soybean prices rose in 2011 because of an increased demand from China. Tyner said the recent drought has also driven feed prices up.
Tyner said prices might decrease as we see decreased demand from animal agriculture. He pointed out that livestock are more efficient than they used to be, and food animals today need less feed.
Putting together this first-ever "Snack and Fact" was a team effort. The American Society of Animal Science co-hosted the event with the American Society of Agronomy, the Crop Science Society of America and the Soil Science Society of America.
Read the "Biofuel" issue of Animal Frontiers