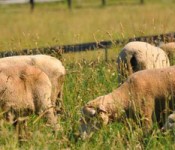 By Ann Perry / USDA ARS
Grazing livestock often avoid eating poisonous plants, but these toxic forage plants can contaminate prepared feeds such as hay and silage. Now Agricultural Research Service (ARS) scientists have published a concise guide for identifying contaminated feeds and sampling forages.
The guide also discusses common forages that can be poisonous, briefly describes toxic plants that contaminate feed in the western United States, and explains how to treat and reduce—or even eliminate—livestock poisoning events.
Livestock feed can often become contaminated after poisonous plants in pastures and fields are harvested along with forage or grain. But it can be hard to identify the toxic material, since it is not evenly distributed through the harvested forage, and since parts of the plants used for identification may have been lost or damaged during the harvest. In addition, only a few of the several hundred bales of hay harvested from any one field may contain enough poisonous plant material to harm animal health.
Animal scientist Kip Panter and veterinary pathologist Bryan Stegelmeier suggest that the best way to guard against potential contamination is to inspect fields before forage is harvested, and to work with local Extension agents and veterinarians familiar with local plants and animal diseases. Collecting multiple samples of harvested materials will substantially increase the odds of finding contaminated forage. Producers and animal caretakers can also examine feed for suspicious or unidentified plants before giving feedstuffs to the livestock.
When animals are poisoned by toxic plants, a definitive diagnosis often depends on properly examining and collecting plant and animal tissue samples and working with local veterinarians and state laboratories to study this evidence. Even some generally safe forages can accumulate toxic levels of nitrates or other substances that can damage animal health, so it's important to manage these forages to minimize the risk of livestock poisoning, according to the scientists.
Panter and Stegelmeier, who both work at the ARS Poisonous Plant Research Laboratory in Logan, Utah, published their observations in 2012 in Rangelands. You can access the guide with a subscription to Rangelands or you can purchase the guide here: http://www.bioone.org/doi/full/10.2111/RANGELANDS-D-11-00054.1
ARS is the chief intramural scientific research agency in the U.S. Department of Agriculture (USDA), and this work supports the USDA priority of promoting international food security.
SCIENTIFIC CONTACT:  Bryan Stegelmeier, ARS Poisonous Plant Research Laboratory, Logan, Utah; phone (435) 752-2941, ext. 1120; bryan.stegelmeier@ars.usda.gov
FOR FURTHER READING:
Finding new forages for rangeland cattle
http://www.ars.usda.gov/is/pr/2012/120124.htm
Teaming up to create a successful forage grass
http://www.ars.usda.gov/is/pr/2011/111101.htm
ARS and New Mexico scientists take a long look at livestock and locoweed
http://www.ars.usda.gov/is/pr/2010/100621.htm