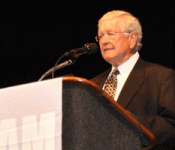 Indianapolis, IN – The 2013 ADSA-ASAS Joint Annual Meeting (JAM) kicked off last night with a closer look at science in Indiana.
Keynote speaker Dr. Philip Nelson, professor emeritus at Purdue University, gave an in-depth lecture on aseptic processing. Aseptic processing is a way of preserving foods by sterilizing both the food and the packaging. Nelson's development of aseptic processing makes it possible for producers to ship food around the world. It also allows producers to market new products. For example, the technology allowed Tropicana to market orange juice "not from concentrate."
In the spirit of JAM, Nelson took a moment to imagine the future of his field. He said researchers are working on new ways to move food through aseptic systems.
Though aseptic processing got its start in Indiana, the technology changed food processing worldwide. Nelson said aspectic processing is expanding in China and India. The technology is especially important in developing countries because it minimizes food wastage.
In 2007, Nelson received the World Food Prize, an honor often called the "Nobel Prize of Agriculture." In 2010 Purdue changed the name of the Food Science Building to the Philip E. Nelson Hall of Food Science.