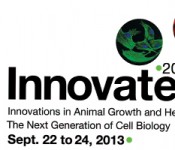 We are pleased to announce that the Innovate 2013 meeting will be co-hosted by the American Society of Animal Science (ASAS) and the American Society of Nutrition (ASN). The meeting will concentrate on the most recent scientific advances in Growth and Development with an emphasis on potential applications. The scientific presentations, coupled with the industry perspective of technology application and acceptance, will ensure that this conference is innovative. In fact, the Innovate 2013 Program Committee fondly refers to this meeting as "not your grandmother's Growth Biology."
Please join us September 22 to September 24, 2013 at the Chateau Elan Winery and Resort in Braselton, GA for innovative science, excellent networking opportunities, scientific brain storming sessions, a beautiful setting and some wonderful entertainment.
BONUS:
ASAS members who register for Innovate by July 26, 2013 will be entered into a drawing to win one of the following:
– All expenses paid to Innovate 2013
(airfare, housing and registration)
– Free registration for Innovate 2013
– $100 gift card for dinner in Braselton

The drawing will take place on July 29, 2013 and the winners will be notified by email.