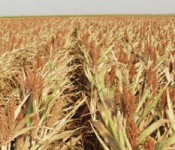 By Lowell Randel / ASAS Public Policy Committee
On July 11, Republican leaders in the House of Representatives brought forward a farm-program-only version of the Farm Bill for consideration. The controversial move to split nutrition programs away from the rest of the bill was seen by House leadership as the most likely way to advance farm legislation after the comprehensive bill including nutrition programs was rejected by the House on June 20. Since that defeat, a number of options were considered, but Republicans settled on stripping the bill of nutrition programs as a way to gain enough support to pass the bill. In addition to dropping nutrition programs, the new version also repeals permanent farm legislation from 1938 and 1949, which have long provided Congress with incentives to pass and/or extend previous Farm Bills. In the end, the House bill prevailed by a strictly partisan vote of 216 to 208. No Democrats voted for the legislation and 12 Republicans broke ranks in opposition.  Eleven members of the House did not vote. President Obama has issued a veto statement in opposition of the House bill. The full text of the House bill, along with a summary, can be found on the House Rules Committee website.
House passage of the bill sets up an interesting conference with the Senate, which passed its version of the Farm Bill (including nutrition programs) with bipartisan support in June. The Senate has completed the procedural requirements to move forward with a conference, but the House has not taken action. House leadership has indicated an interest in resolving the question of how to handle nutrition programs before going to a formal conference. Republicans are considering the development of a separate bill to address nutrition programs and have created working group to examine options for moving forward. One of the more contentious issues is an amendment authorizing pilot programs to strengthen work requirements for food stamp recipients. Some House Democrats have indicated that they would support the $20 billion in cuts originally included in the House Farm Bill if the work provision was stripped. They see that as a way to get the conference process moving more quickly. As it stands, it appears the earliest that conferees would be named is September, although informal pre-conference discussions are expected during August.