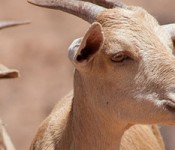 The International Livestock Research Institute (ILRI) and Korea's Rural Development Administration have launched a new program to compile information on many of the unique livestock breeds raised in Africa. Over the next three years, African 17 countries will collect and verify farm animal data at the country level.
Researchers will use the data to see which breeds are useful and should be preserved. ILRI officials say conserving these breeds will help local farming communities survive. Just like producers in the United States, producers in Africa could improve their herds through access to genetic information and population trends.
"Africa has a lot of unexplored and unidentified animal genetic resources which have remained underutilized being seemingly of low economic value, but I believe they have a high potential value for humanity to resolve food problems in the future," said Chan-Woo Kim, the ambassador of the Republic of Korea to Kenya, during the launch of the program.
The new program is called the Country Domestic Animal Genetic Resources Information System (C-DAGRIS). The seventeen countries involved are Algeria, Angola, Cameroun, Comoros, Cote d'Ivoire, DR Congo, Ethiopia, Gabon, Ghana, Kenya, Malawi, Morocco, Nigeria, Senegal, Sudan, Tunisia, Uganda and Zimbabwe.
Banner photo courtesy ILRI\Zerihun Sewunet