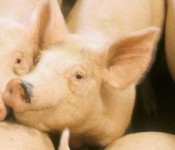 By Madeline McCurry-Schmidt / ASAS Communications
How do beta agonists work?
Beta agonists are growth promotants used in cattle and swine production. When animals consume feed, they partition the extra energy into fat cells. When cattle and swine are given beta agonists, they partition the extra energy into muscle instead of fat.
Many swine and cattle producers feed their animals beta agonists in the last few weeks before harvest. This is because animals are less efficient at turning energy into muscle as they get older. Beta agonists help animals deposit more lean muscle without needing more feed. Beta agonists are also approved for use in turkey production, but they are not as widely used.
The beta agonists used in livestock production are ractopamine and zilpaterol hydrochloride.
The FDA Center for Veterinary Medicine has approved ractopamine for use in swine and cattle. Elanco Animal Health has two ractopamine product lines. Paylean is the ractopamine product for swine and Optaflexx is the ractopamine product for cattle.
Zilpaterol hydrochloride is only approved for use in cattle. It is sold by Merck under the name Zilmax.
Are they safe for humans?
Beta agonists are safe in food animals because the compounds do not last long in animal tissue. Zilpaterol hydrochloride and ractopamine break down quickly and are excreted before the animal is harvested.
The FDA tests for beta agonist residues in pork and beef products. In rare cases where beta agonist residues have been detected, levels have been far below the Maximum Residue Limit (MRL) established for human safety by the FDA and the international Codex Alimentarius Commission.
There has never been a case of foodborne illness or side effect in humans attributed to these approved beta agonists in meat products.
Dr. Richard Raymond, former Undersecretary for Food Safety, U.S. Department of Agriculture, believes beta agonists can help improve global food security. In a 2013 article, Raymond pointed out that beta agonists lead to 6 to 7 pounds of additional meat per pig and 30 pounds of additional meat per market cow.
"If only half of the 24 million head of cattle harvested annually, a conservative estimate to be sure, yielded an additional 30 pounds of meat, this would provide 360 million more pounds of lean beef during a time when drought and high grain prices are forcing a reduction in the size of the American cattle herd. That would equate to 1.4 billion additional quarter pounders to help feed the world's children, too many of whom go to bed hungry every night," wrote Raymond.
Are beta agonists safe for animals?
There are no published data showing that beta agonists have an effect on animal welfare. Swine and cattle given beta agonists do not have higher incidence of injury or health problems under normal management.
One concern is joint soundness in swine and cattle given beta agonists. Tyson Foods cited this concern in a 2013 decision to stop accepting cattle given zilpaterol hydrochloride; however, researchers have not found evidence that beta agonists cause joint problems.
"Research has not observed any negative effects on animal conformation. However, cattle with poor skeletal structure (post legged, straight fronted), the added muscle could cause these problems to become more evident," wrote Dr. Amy Radunz, State Beef Extension Specialist at the University of Wisconsin-Madison, in a 2010 report.
Because beta agonists have only been approved in cattle since 2003, researchers are still investigating potential joint problems.
Research from the University of Alberta, Agriculture and Agri-Food Canada and Elanco Animal Health demonstrated no connection between ractopamine use and joint soundness in swine. To evaluate joint soundness, the researchers studied cartilage in weight-bearing areas of the joints.
"These results demonstrated that feeding ractopamine can increase pig growth rate and carcass leanness without detrimental effect on joint cartilage," wrote He et al.
There is some evidence that beta agonists can affect swine behavior. A 2003 study by researchers at the USDA Agricultural Research Service and Purdue University showed that swine given ractopamine were more reluctant to leave their pens. This means it may take more time to handle and transport these animals. These pigs also had higher heart rates and higher circulating catecholamine concentrations, chemicals associated with the flight-or-fight response.
A 2006 study published by researchers at Colorado State University and Elanco Animal Health showed that ractopamine does not affect beef cattle behavior in squeeze chutes. Squeeze chutes are small stalls that producers use to weigh cattle and perform routine care. The researchers monitored cattle behavior by recording how fast the animals moved through chutes and whether they struggled during handling.
"No adverse effects of ractopamine supplementation on cattle behavior were observed in this study," wrote Baszczak et al.
References
Effect of ractopamine on carcass characteristics and joint-cartilage soundness in finishing pigs by P. He et al, Canadian Journal of Animal Science
Effects of ractopamine supplementation on behavior of British, Continental, and Brahman crossbred steers during routine handling by J. A. Baszczak et al, Journal of Animal Science
Having Agony Over the Agonists? Perspective from a Former USDA Food Safety Official by Dr. Richard Raymond
The effects of ractopamine on the behavior and physiology of finishing pigs by J. N. Marchant-Forde et al, Journal of Animal Science
Tyson Meats Refuses To Buy Zilmax-Fed Cattle by Alan Newport and Andy Vance, Farm Futures
Use of beta agonists as a growth promoting feed additive for finishing beef cattle by Dr. Amy Radunz, University of Wisconsin-Madison