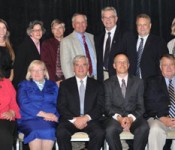 By Dr. Kimberly Vonnahme / former ASAS Director-at-Large
During her three years on the ASAS Board, Vonnahme was a leader on many communications and membership projects. When she finished her term, ASAS asked if she could reflect on the experience.
Like many of you, I am excited for the new semester to begin and to welcome back those fresh faces that are willing to learn about animal agriculture. New research projects are underway and new crop of graduate students have begun at NDSU—what an exciting time! As I make my "To-Do" lists for the semester, there is one thing that is missing this year compared to the last three—no more ASAS Board meetings and committee assignments. I would be lying if I said it wasn't nice to think that there is one less thing on my plate, but I will truly miss meeting with the other Board members as well as knowing the "behind-the-scenes" work of the ASAS Board.
Looking back, my first interaction with ASAS was the Midwest meetings in Des Moines when I was an undergrad. I was thrilled to meet the scientists whose work I had been reading—what amazed me most is that they were "real" people! Beginning graduate studies, I began to attend the National meetings and was so excited when I got my first publication in the Journal of Animal Science!  Now I have been on faculty at NDSU for almost 10 years, and I still love going to the meetings—meeting new and old friends, and I still get excited when I get that "accepted" email from the Journal, but after having the opportunity to serve on the Board, there are so many more things that I appreciate about being a member of ASAS.
Our members really do drive the direction and the accomplishments of our Society. I served as one of the Directors-At-Large, which meant that I didn't have a particular responsibility to a section. Moreover I chaired the Publications committee, as well as some of the Award committees. But when the entire Board was together, we discussed issues that the membership wanted to have addressed. Some of these were to promote animal agriculture to the general public (i.e. we needed to quit preaching to the choir). The ASAS staff was amazing—out of that came AnimalSmart.org as well as the Junior Animal Scientist program! The ASAS membership had major concerns about research funding, so ASAS helped to host the Innovate 2012 Conference. Information out of this first meeting made it to DC for potential funding opportunities! Our members that have majority teaching and extension positions wished for a teaching journal—we just launched our partnership with National Sciences Education at this last JAM!
I see things very differently now—JAM isn't some huge affair that doesn't have a face. The little details that make meeting great continue to be good science from our members, but good coffee and a well-organized program are also appreciated. I take my responsibilities as an author and reviewer of manuscripts for JAS more seriously—I want JAS to the place where great research is published. I also know that if there is something that I feel passionately about, ASAS can help that come to be—it is important that I voice my opinion and help with implementation. It is important to be involved!
So while many of us do not need one more thing to do, taking the time and effort to help strengthen our Society is important. Regardless of our disciplines, our professional positions, or our home institution, we all have the same goal in mind, and that is to better humankind through animals. ASAS is a home where all of us can play a part and help others understand our mission. Many hands make light work, and when we come together to help better animal science, we all benefit. I encourage you to participate either in your sections or at the National level. We can do so much more than share our research, teaching, or extension with others in ASAS—we can promote the direction of where animal science is heading!