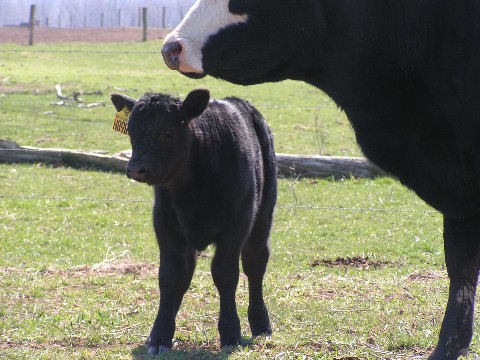 By Laci Jones / ASAS Communications
Sept. 4, 2013- Vaccines have been used to prevent diseases in animals by causing a protective response from the immune system. For a new study in the Journal of Animal Science, researchers studied how maternal antibody levels affect vaccination responses in Angus calves.
Maternal antibody levels help prevent diseases in calves until their immune system develops. The researchers said the maternal antibody levels have been known to affect the antibody response to vaccinations.
Dr. James Reecy, animal science professor at Iowa State University, said they wanted to take a normal industry practice and find a way that the industry can increase the benefits that it brings.
The researchers evaluated the maternal antibody levels of 1,004 Angus calves. Before being enrolled in the study, the calves were tested for bovine viral diarrhea virus (BVDV) persistent infection. The calves were given two shots of modified live vaccines. The researchers collected serum samples to evaluate the antibody levels.
The researchers found that the age of the dam affects the passively acquired maternal antibody levels in the serum of calves. The researchers discovered that the maternal antibody levels increased with the age of the dam until six years of age and then leveled off.  The maternal antibody levels were passed to calves through colostrum.
"This finding is important because while passive antibodies protect calves from disease until their own immune systems are ready to take over, the presence of passive antibodies may prevent calves from responding to vaccination," Dr. Julia Ridpath, microbiologist at the United States Department of Agriculture's Agricultural Research Service (USDA-ARS), said.
Ridpath said this study can give producers a model for finding the balance between having enough maternal antibodies to prevent disease and allowing the immune system to respond to vaccinations.
Dr. Richard Tait Jr., USDA-ARS research geneticist, said the industry could coordinate vaccination protocols for first calf heifers differently from older cows based on these results.
This article is titled "An evaluation of circulating bovine viral diarrhea virus type 2 maternal antibody level and response to vaccination in Angus calves." It can be read in full at the journalofanimalscience.org.
Scientific Contact:
Dr. James Reecy
Iowa State University
jreecy@iastate.edu
Media Contact:
Laci Jones
American Society of Animal Science
Communications
580-222-9843 / lacij@asas.org