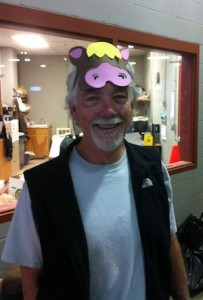 On Saturday September 14, 2013, NDSU hosted their 4th annual Moos, Ewes and More. The event attracted more than 1600 individuals with an approximately fifty distribution of adults and children. The event annually showcases the NDSU Department of Animal Science, granting community members the opportunity to interact with NDSU animal science faculty, students and ANIMALS.  The event not only introduces the community to the animals and products that come from animal agriculture systems, it allows them to learn through participation.
The yearly event aims to showcase agriculture through demonstrations and interactive activities including: sheep shearing, wool spinning, bottle feeding calves, cow milking, hoof trimming, and BBQ tasting. NDSU works to hard each year to showcase a variety of species and 2013 was no different. Attendees were able to see pigs, sheep, beef and dairy cattle, horses, ducks and chickens and after visiting the animals attendees sampled BBQ from the NDSU BBQ Bootcamp and ate Cass-Clay ice cream.
In a time period, when animal agriculture is too often and unfairly portrayed negatively, these types of programs are becoming increasingly important. They are a fun and educational way for animal scientists to showcase our love of science, our love animals and our passion for production systems that create a safe, plentiful and quality food supply.
Congratulations to NDSU for putting together another successful event!