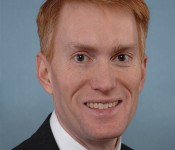 Representative James Lankford (R-OK) introduced HR 3316 Grant Reform and New Transparency Act (GRANT) of 2013. The bill was co-sponsored by Rep Patrick Meehan (R-PA) and Rep. Darrell Issa (R-CA). The House Oversight and Government Reform Committee approved the bill on October 29, 2013. If passed by the full House the bill would direct grant giving federal agencies to create new standards for grant notices and grant awards and create a mechanism by which discretionary competitive grants are disclosed. Representative Lankford introduced the legislation to allow greater transparency and accountability to lawmakers and the American taxpayers. The GRANT Act would require the following:
Posting information about a grant opportunity including the criteria that will be used to rank and evaluate applications
Publication of all expected calls for grants by November each year
A searchable database for all grant information
Posting award information including the text of the successful application, decision documentation and rankings of the successful proposals.
Posting the final report of the funded grant including all related data or links to related data that the agency would consider of value to the public or future researchers.
Mandate the creation of a screening process to insure the potential grantees can perform the work and appropriately administer and protect the grant dollars.
Providing losing grants, those < $100,000 the opportunity for a debriefing.
Disclosure of the names and titles of peer or other grant reviewers and their employer.
The two places in which the bill may be amended include the proposed disclosure of the names of peer reviewers and the publication of the full grant text. Suggestions for amendments from the House Oversight Committee to address these issues were withdrawn and negotiation with Rep. Lankford to address these issues was proposed. A similar bill was proposed in the 2012 session and was never considered by the full House because of objections by House Democrats and the academic community.