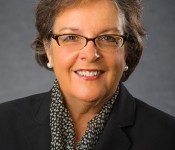 LEXINGTON, Ky. (Nov. 26, 2013) — Citing a compelling vision for the future of the college and a national reputation for leadership, University of Kentucky Provost Christine Riordan Tuesday announced that Nancy Cox has accepted the position as dean of the UK College of Agriculture, Food and Environment.
The appointment is subject to approval by the UK Board of Trustees at its December meeting.
Cox will replace Scott Smith, who has led the college since 2001. He plans to return to the faculty, where he has been a member of 35 years. Cox is currently associate dean of research in the college, a position she has held since 2001 when she came to UK from Mississippi State University.
She is widely regarded as a leader in the field, serving on several national policy boards and organizations and has close ties to both civic and agricultural leaders throughout the Commonwealth, which enthusiastically supported her candidacy for dean.
President Eli Capilouto praised both Cox and Smith, saying that the "UK College of Agriculture, Food and Environment is widely known as one of the leading colleges in the country. That's, in large part, because of the leadership of Scott Smith and his senior team, including Nancy Cox.
I want to thank Dean Smith for his long service and leadership. I am excited about the prospect of Nancy's continued leadership both on our campus and in the Commonwealth, where she is so respected."
"We are fortunate to have found someone with the rare combination of skills, intellect and reputation of Dr. Nancy Cox," Riordan said in announcing the selection. "She is widely known and highly regarded throughout Kentucky for her knowledge and relationships with agriculture, political, and civic leaders. At the same time, she is renowned nationally in helping lead the research and administrative efforts of one of the country's premier colleges of agriculture, including an extension service treasured throughout the Commonwealth."
Among many duties, Cox oversees the college's research portfolio, which includes $25 million in external awards in Fiscal Year 2012. She currently represents the college on most Kentucky agricultural commodity boards, was the founding administrator of UK's growing Ag Equine Programs, and has been the key administrator in innovative alliances with private industry such as Alltech.
On the national level, she serves or has served on key federal policy boards such as the American Society of Animal Science and the U.S. Department of Agriculture's National Advisory Board for Research.
"I am very honored to represent, serve and support the UK Ag community, including its outstanding students, faculty, staff and an extension system known throughout the Commonwealth for its commitment to service," Cox said. "During interviews for this position, I was impressed once again by the pivotal role the College of Agriculture, Food and Environment and its stakeholders play in the economy of the Commonwealth. I look forward to building on that legacy of engagement."
Riordan also thanked Smith for his long tenure as dean, which included leading the college in confronting pivotal issues such as Mare Reproductive Loss Syndrome and the end of the tobacco price support program. Riordan said "UK is fortunate that Dean Smith will continue in our faculty ranks, providing his guidance to students, faculty and staff in the college and throughout the university."
Department of Entomology Chair John J. Obrycki, who co-chaired the search committee that helped select Cox, said, "Dr. Nancy Cox impressed the members of the search committee with her breadth of knowledge, administrative experience,  and understanding of the land-grant mission of the College of Agriculture, Food and Environment at the University of Kentucky.  She stressed the need for a shared vision of the future of the newly renamed college and how we will address the diverse needs of the citizens of the Commonwealth of Kentucky."