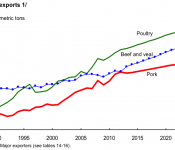 By Penny Riggs, ASAS public policy committee
The U. S. Department of Agriculture (USDA) released new 10-year agricultural projections (available at the Office of the Chief Economist's website).  Each February, USDA publishes a set of projections developed by interagency committees in USDA, led by the Economic Research Service. The new projections cover crop and livestock commodities, agricultural trade and aggregate indicators, such as farm income, through 2023. The projections represent a conditional, long-run scenario based on specific assumptions about farm policy, weather, the economy, agricultural and trade policies, and international developments. Overall, the projects do not serve as a forecast of the future, but rather, establish a neutral baseline reference to be used for discussion of alternative outcomes that could result under different domestic or international scenarios.  The report assumes normal weather conditions, and no domestic or external shocks that might disrupt global agricultural markets.  The report is also based analyses conducted during October through December 2013, and do not reflect the Agricultural Act of 2014.
The projections assume continued, steady, global economic growth, averaging 3.2 percent annually, with the greatest rates of growth occurring in China, India, and developing areas of Asia, Africa, and Latin America.  The U.S. economy is projected to average 2.6 percent growth per year over the next decade.  Sustained growth is predicted to support long term gains in global food demand and agricultural trade. Income growth in developing countries is expected to increase demand for more diversified diets and reduction of traditional staple foods, resulting in increased food consumption and feed use.  These developing countries will have a growing role in the global economy and food demand, and will continue to account for most of the growth in U.S. agricultural exports during the period.
Key results of the projections note that prices for major crops decrease initially, as production increases globally in response to recent high prices. Reduced feed costs will improve returns in the livestock sector to provide economic incentives for projected longer term increases in U.S. meat production. Prices for hogs and broilers are expected to decline during the first half of the projection period due to increased production.  Conversely, beef cattle prices continue to increase due to production declines, and milk prices are expected to rise gradually. Overall world economic growth and demand for biofuels will continue to support longer term increases in consumption, trade, and prices for agricultural products.  Following declines early in the projection period, prices for corn, wheat, oilseeds, and many other crops remain historically high.  Despite increasing production expenses, net farm income is expected to remain high.
Much of the projected increase in agricultural consumption and imports is expected to come from low- and middle-income countries during the next decade.  Globally, meat consumption is projected to increase.  Rates of poultry consumption are rising faster than pork or beef consumption.  World meat consumption is projected to increase about 1.9 percent per year during 2014-2023 and meat shipments from major exporters rise 2.2 percent per year.  During this projection period, world meat trade will increase nearly 22 percent.  About 80 percent of the projected increase in global meat consumption is expected to come from developing countries.  Some of the strongest growth in food demand is expected to come from the region of Africa and the Middle East. It is assumed that Russia will continue to stimulate domestic production of poultry and pork and limit imports, resulting in a decline in aggregate meat imports.
During the next decade, imports by major beef importing countries are projected to increase nearly 2.3 million tons (34 percent) to reach 9.1 million tons.  Exports of lower priced beef from India and Brazil to a number of low- and middle-income countries account for nearly two-thirds of the projected increase in world beef trade.  Russian beef imports are projected to fluctuate as both demand and production increase.  Beef imports by China and Hong Kong are projected to increase 55 percent. Exports of U.S. grain-fed beef are expected to increase steadily, while U.S. imports of grass-fed, lean beef for use in ground beef and processed products, rise slowly during the projection period.  The United States is projected to be the world's largest beef importer and to account for 13 percent of the increase in world imports. The Middle East, with a relatively fast-growing population, and Asia, with rapid income growth, are projected to be growing markets for beef.  Together, the two regions account for nearly two-thirds of the increase in world beef imports through 2023. Strong growth in Mexican beef imports is also projected to resume over the next several years.
Imports of pork are projected to increase globally during the next decade, increasing by 1.05 million tons. Japan is projected to remain the world's largest pork importer, but little growth is expected. Russia's pork imports are projected to decline steadily , but imports by China and Mexico will each surpass those of Russia. China's pork imports are projected to rise about 50 percent to 1.2 million tons by 2023, and account for two-fifths of the increase in world imports. Pork imports are also expected increase at a rapid pace in the Central America and Caribbean region
A 30 percent growth in poultry meat imports is projected between 2014 to 2023. Growth in the region of Africa and Middle East is projected to account for 80 percent of the increase in world poultry meat imports.  Demand and imports are also expected to increase by 65 percent in Mexico, while Russia's imports decline steadily.  In China, production is projected to expand to meet increasing consumer demand.
Overall the USDA projections are consistent with sustained, increasing global demand for all types of food animal protein. These projections underscore the importance for continued emphasis on research outcomes and technological innovations to enable the increases in food animal production that are required to meet these increasing demands.