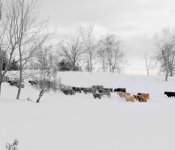 By Laci Jones
Low temperatures and snow storms have taken a toll on livestock across the nation this winter. The severe weather has forced farmers and ranchers to take extra precautions for livestock safety.
Dr. Terry Mader, Professor Emeritus at the University of Nebraska and expert in cattle management in adverse environmental conditions, said the greatest livestock losses experienced by the U.S. each year tend be during the early storms that occur in October and November.
"If the animals can stay dry, then they [can] endure the cold temperatures," Mader said.
However, the severe winter weather in January also took its toll. Based on a conversation he had with the South Dakota State Veterinarian's office (reports from 302 farmers and ranchers), Dr. Carl Dahlen, Extension Beef Cattle Specialist at North Dakota State University, said the severe winter weather this year has resulted in the loss of nearly 22,000 cattle (60% cows and 40% calves), 1,400 sheep, 300 horses, and 40 bison in South Dakota alone. "South Dakota Ranchers Relief is another group that was getting reports – just over 400 producers reporting approximately 43,000 total livestock – [but] they did not break it out by species or age class," said Dahlen.
Terry Skunberg, manager of the Animal Nutrition and Physiology Center (ANPC) at North Dakota State University, said he decided to begin staying overnight at ANPC during severe cold weather after a blizzard hit the NDSU campus during the Christmas holidays a few years ago. Skunberg said that although a graduate student was able to make it to the Center to take care of the animals during the storm, it was a dangerous situation.
"It was a perfect storm: a holiday, no students and no grounds crew," Skunberg said.
Skunberg now stays the night at ANPC to ensure the safety of the livestock when the weather is severe. Skunberg said he has stayed two nights at ANPC this year.
"It is a small price to pay and helps give me peace at mind," Skunberg said.
Dr. Bret Taylor, Research Animal Scientist at the U.S. Sheep Experiment Station in Dubois, ID, said the key factors for handling the severe winter weather are preparation and access.
Taylor advises producers to prepare for these storms by having enough feed and water available for livestock during the harsh weather. He said it is important to have dependable equipment available as well.
Further Reading:
Severe cold weather and livestock
Media Contact:
Laci Jones
ASAS Media Communications
lacij@asas.org
Scientific Contact:
Larry Reynolds
ASAS Media Communications
Larry.Reynolds@ndsu.edu